Epoxy Resin Coatings – Warehouse
PSC Flooring Ltd, industrial flooring contractor, have completed 500 sq mtrs of epoxy resin coatings to a warehouse for a pharmaceutical manufacturer, in Nottingham.
The pharmaceutical manufacturer, were looking to refurbish a new warehouse for stock and were looking to upgrade the floor. The existing concrete, was coated with an old floor paint that had become very worn and flaky. The client required an epoxy resin floor that would be high gloss, hard wearing an easy to clean resin floor.
PSC Flooring Ltd suggested two coats of Resdev Pumatect high build epoxy resin coating system in mid grey and Chelsea Blue to the walkway.
The old floor was firstly heavily shot-blasted and also diamond ground clean, to remove the paint and to clean and prepare the concrete. Once fully vacuumed clean and joints were repaired, two coats of Resdev Pumatect high build epoxy was laid.
The final process was to mask out and lay two coats of Resdev Pumatect high build epoxy resin coating system to the walkway in Chelsea Blue.
The total project took 4 days to complete and was on time and on budget and provided the client with an epoxy resin floor that is attractive, hard wearing, easy to clean and transformed the new warehouse area.
Mr Andy Swain Technical Manager, said, "We are delighted with our new epoxy resin floor, which has transformed our warehouse..  The epoxy resin floor is hard wearing and easy to clean and we are grateful to PSC Flooring, who were very professional and offered a competitive package."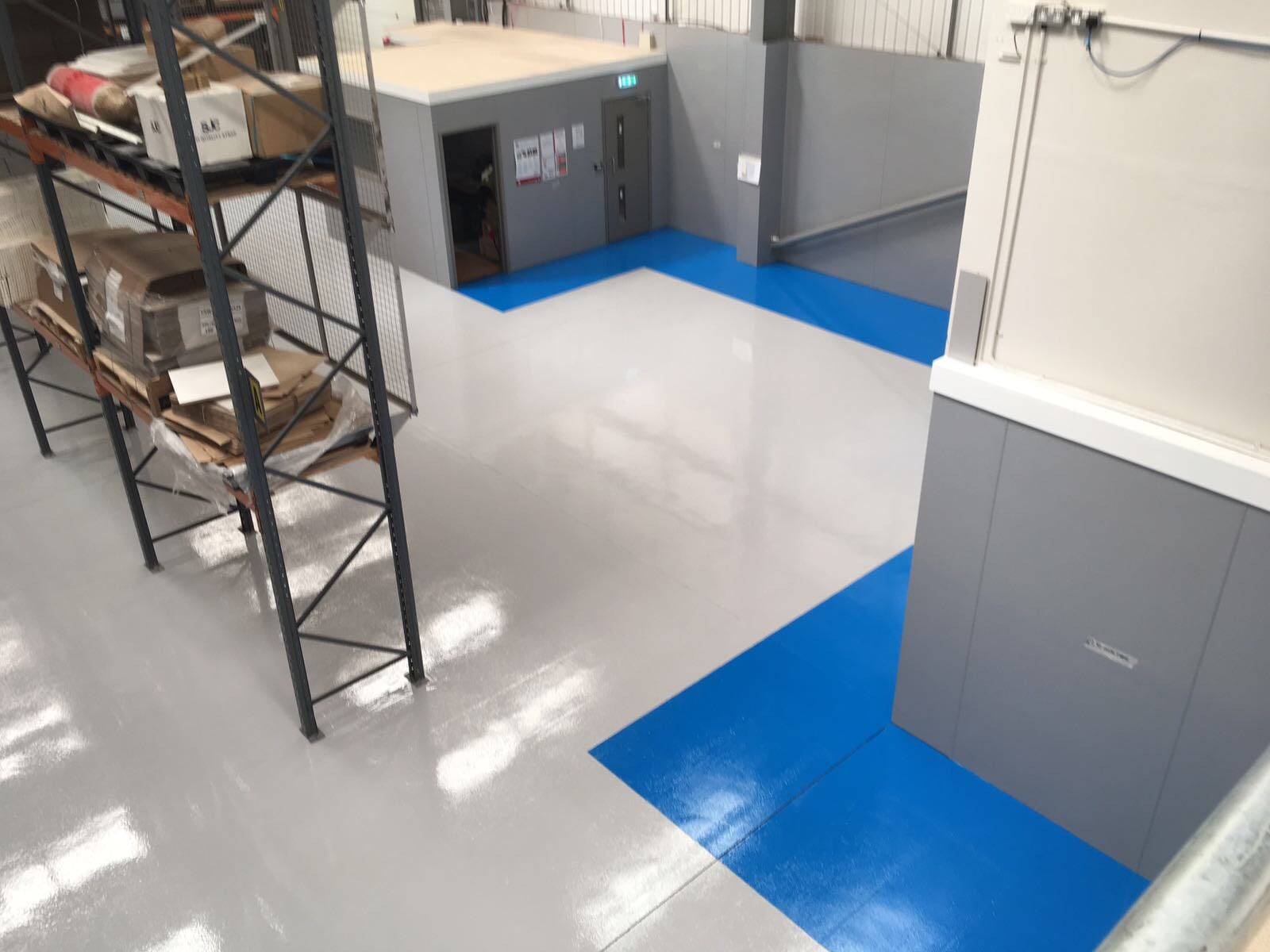 2000 sq meters of epoxy resin coating system laid at INA Bearings UK distribution facility. INA Bearing are a international company manufacturing automotive components and distributing them worldwide.
Click images below to view larger version :