Anti-Slip Resin Flooring Experts
Polyurethane Screed – Manufacturing
The Manufacturer which makes chassis for Land Rover required a very hard wearing, durable floor surface to withstand high levels of folk lift traffic and usage, which would last the client at least 10 years.
PSC Flooring Ltd specified a 6mm heavy duty polyurethane screed, which has a 10 year manufacturers guarantee.
All the floors recieved a heavy shotblast and because the floors were contaminated with oil over many years, a coat of oil binding primer was laid to the entire floor to neutralise the oil. All areas were then thoroughly prepared, swept and vacuumed and all damaged concrete were repaied using epoxy mortar compound.
PSC Flooring Ltd then laid a 6mm polyurethane screed, dark grey, with flint aggregate. Each phase of about a 1000 sq mtrs was completed in 10 days providing the client with a very durable, hard wearing surface that the client can have complete confidence in, over a 15 year period life period.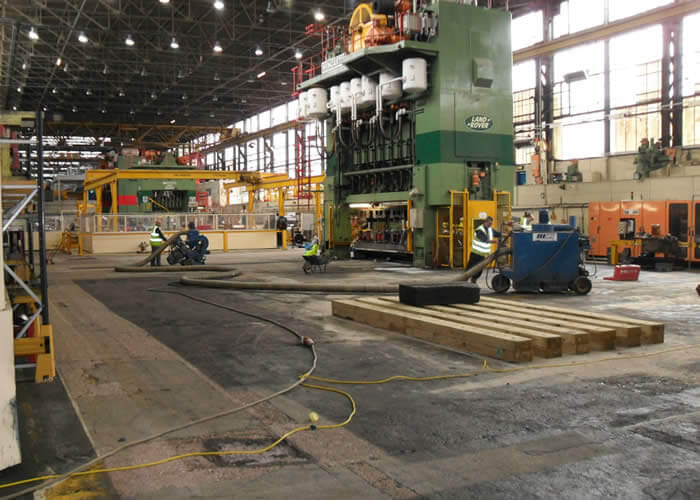 4000 sq mtrs of 6mm heavy duty polyurethane screed were carried out in 4 separate phases at a large automotive manufacturing facility.
Click images below to view larger version :